L'Occitane Almond
---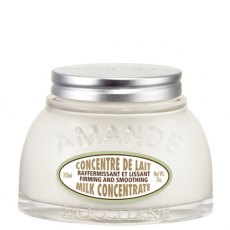 L'Occitane Almond Milk Concentrate 200ml
L'Occitane Almond Milk Concentrate blends both tradition and science into a silky, concentrated milk that nourishes and smoothes the skin. Tradition: using almond proteins to firm the epidermis and science: using soft silicon to help support collagen synthesis. Help to firm and tone your skin with L'Occitane Almond Milk Concentrate. Suitable for the whole body L'Occitane's unique Almond range helps...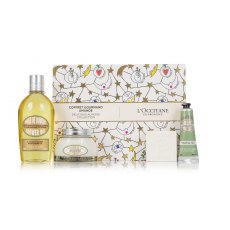 L'Occitane Christmas Almond Gift Set
Indulge yourself with this Delicious Almond Collection containing some of L'Occitane's best-selling bath & body indulgences formulated to nourish, firm and smooth your skin. Almond Collection contains: Almond Shower Oil 250ml Bonne Mere Milk Soap 100g Almond Milk Concentrate 100ml Almond Delicious Hands 30ml
---
L'Occitane Almond Christmas Ornament
Loccitane Almond Christmas Ornament A delightful gift for someone special! This green Christmas tree bauble from L'Occitane is packed full of fab little beauty treats. Enjoy the luxurious textures and indulgence of the L'Occitane en Provence Almond collection. Each L'Occitane Christmas bauble contains three Amande flavoured products to leave behind a delicate scent. Almond Shower Oil 35ml Almond...
---
L'Occitane Almond Lifestyle Kit
Loccitane Almond Lifestyle Kit Indulge yourself with this Delicious Almond Collection containing some of L'Occitane's best-selling bath & body indulgences formulated to nourish, firm and smooth your skin. Almond Collection contains: Almond Shower Oil 250ml Cleansing & Exfoliating Soap 50g Almond Milk Concentrate 100ml Almond Delicious Hands 30ml