Janod
---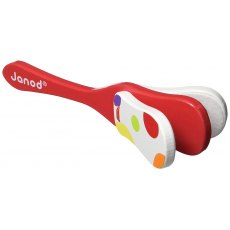 Janod Confetti Castanet
Wooden Castanet. "Confetti" is a fun range of musical instruments that awakens the senses and allows young musicians to learn about music. Dimensions 5.5 x 2.7 x 16 cm Material: Wood Age: 3 - 8 years Gender Neutral
Janod Crazy Doggy Cart (Wood)
Encourage your little one to take their first steps with this cute doggy cart. Children can store their toys in this cute canine character, who is made from rubber wood and has a bell around the neck that jingles when pushed, which helps to stimulate senses from a young age. It also features rubber grippers on the wheels and is weighted at the front to make it sturdy and safe. Dimensions: H49 x...
---
Janod Lapin Push-Along Rabbit (Wood)
A lovely push-toy to support children as they learn to walk. The handle may be unscrewed and adjusted for your child's height (upper or lower position). The rabbit ears are made of felt, for a super soft touch ! Dimensions 14.3 x 6.5 x 55cm Material(s) Wood (beech and cherry wood), felt Gender Neutral
Janod Nutty Balance Balancing Game (Wood)
Solid wooden balancing game. Pile up as many hazelnuts as possible without making them fall. Bright and colourful Water-based paint One Squirrel, one scale and 20 hazelnuts in cotton bag for easy storage Material: wood Dimensions: 24 x 3.5 x 20 cm Age: from 18 months
---
Janod Pure Train
The colourful Janod Pure Wooden 3 carriage Train with super cute animals! Dimensions 31.4 x 6.8 x 11.5cm Material(s) Wood (beech and cherry wood)
Janod Tatoo ABC Buggy Cart 30 Blocks (Wood)
This amazing ABC Buggy by French wooden toy manufacturer Janod is a contemporary twist on an old idea. With its updated design and bright colours, this fabulous baby walker boasts 30 wooden alphabet/number blocks and an abacus on the front which not only provides fun but also assists with counting skills. The wooden pinwheel wheels are trimmed with rubber to improve traction and help protect surfaces.Finished...
---
Janod Zigolos Ostrich Stacker
Beautifully painted wooden and felt baby toy with 6 large pieces to stack into a wonderful ostrich. The ostrich and hidden chick are clutchable and perfect for little hands. The stem of the base is flexible to prevent the risk of injury. The ostrich holds the chick in the egg. Dimensions: 18 x 6.5 x 22cm Material(s): Wood (beech and cherry wood) Ages: 12 - 36 months
Janod Categories