The Snowman
---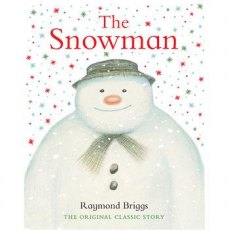 The Snowman Hardback Book
One winter's night, a snowman comes to life and an unforgettable adventure begins. Raymond Briggs' favourite classic is a true piece of Christmas magic - narrated entirely through pictures, it captures the wonder and innocence of childhood and is now recognised throughout the world. This beautiful hardback edition is the perfect gift for all Snowman fans.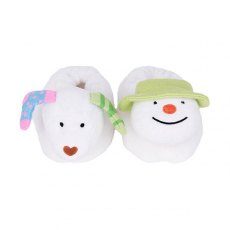 The Snowman and The Snowdog Booties Gift Box
These adorable The Snowman and The Snowdog booties are made from super soft plush with cute embroidered features and a rattle in each toe. Watch your baby discover the sounds in their feet and the joy on their faces as they develop their Physical skills and learn how to make them rattle. Presented in a gift box. Suitable from Birth Size: 0-6 months
---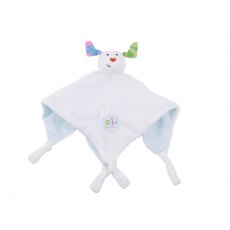 Snowdog My First Christmas Comfort Blanket
This plush Snowdog comfort blanket has a cute My First Christmas badge on the front, colourful sock ears and a soft jersey underside with cute blue and white polka dot pattern. Suitable from birth this comfort blanket makes a great first Christmas gift for newborns and a lovely keepsake memento of the occasion. Age: Suitable from birth Size: 30 x 9 x 30cm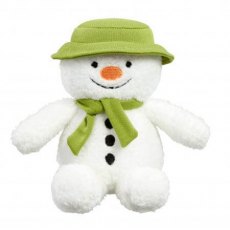 The Snowman Bean Toy
A super soft bean toy based on the infamous character from the classic Raymond Briggs book. Age: Suitable from Birth Height: H15cm
---
The Snowman Collector Edition
Nothing says Christmas like The Snowman, the instantly-recognisable character from Raymond Briggs' enchanting and magical tale - and star of the renowned Christmas TV favourite. That's why fans will adore the Collector Snowman created to commemorate the 40th anniversary of this much-loved character. The Collector Snowman is made from super soft premium quality plush; his face features delicate embroidery...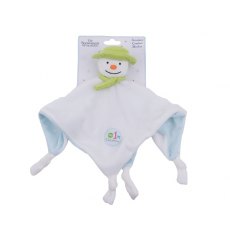 The Snowman My First Christmas Comfort Blanket
This plush Snowman comfort blanket has a cute My First Christmas badge on the front and a soft jersey underside with cute blue and white polka dot pattern and has cute knot detailing on each corner. Suitable from birth this comfort blanket makes a great first Christmas gift for newborns and a lovely keepsake memento of the occasion. Age: Suitable from Birth Size: 30 x 9 x 30cm
---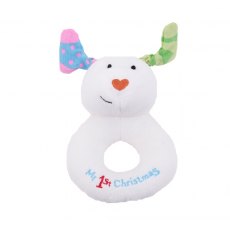 Snowdog My First Christmas Jingle Bell Ring Rattle
Part of the Snowman 'My First Christmas' range, the Snowdog ring rattle is white with colourful sock ears and has an embroidered My First Christmas message. The rattle is suitable from birth this festive ring rattle makes a great first Christmas gift for newborns and a lovely keepsake of the occasion. Dimensions: 8.5 x 7.5 x 12cm Machine Washable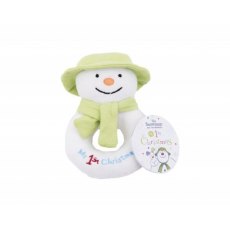 Snowman My First Christmas Jingle Bell Ring Rattle
Plush Snowman rattle in white with Snowman's signature Green Hat and Scarf, embroidered features and has an embroidered My First Christmas message. This festive rattle makes a great first Christmas gift for newborn babies and a lovely keepsake of the occasion. Suitable from birth Machine Washable
The Snowman Categories