Passport Prisoner
Product Description
A handy sized notebook with a Prisoner passport design.
Plenty of pages to keep notes. Perfect for hatching an escape plan!
Customer Reviews
By
StephenDove
on
9th January 2021
"Excellent Xmas present for my partner"

By
Georgia
on
23rd September 2020
"Lovely little notebook!"

By
SteveWillis
on
23rd September 2020
"Good kids like them"

By
COSTE
on
5th September 2020
"I bought 2: one to keep, and one to use. It is perfect: small and so pretty with the logo and image of Patrick McGoohan."

By
MarkGonzaga
on
14th July 2020
"Adorable! Just like an actual passport. A nice little notes book. Certainly fun for any fan of The Prisoner! Made a fabulous gift aka stocking stuffer!"

By
JerryTurton
on
14th June 2020
"Nice product and quick delivery!"

By
DeniseRobertson
on
12th May 2020
"I bought two Prisoner passports for my sister and brother in law. We have visited and holidayed at Portmeirion many times and we are all Prisoner fans. I thought the passports would be a reminder of good times past and Prisoner passports seemed highly appropriate during the lockdown. They arrived promptly and my sister called to say what a lovely surprise they were and how beautifully presented they are, just like a real passport. They include famous phrases instantly recognisable to a Prisoner fan. All this for such a modest price too."

By
DominiqueMorin
on
21st March 2020
"Fully satisfied, thanks !"

By
Mario
on
2nd March 2020
"Cannot miss in the collection of Village memorabilia!!!"

By
DavidM
on
22nd September 2019
"A nice addition to any Prisoner-themed costume. Well-made, it includes some limited customization based on the purchaser's shipping address, which is an excellent touch."

By
DAVE
on
15th March 2019
"QUALITY PRODUCT"

By
LydiaWenglar
on
13th December 2018
"This is the best little palm book ever! It has different sayings about The Prisoner on each page, and a lovely background design on every page. I love having it as a little reminder of the show, and it will com in handy for something special soon! "

Home Delivery
UK mainland delivery from £3.95
You may also like...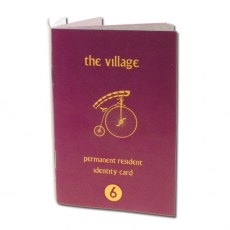 People who bought this also bought...
---
---
---
---
---