On The Farm
---
Sophie Allport Sheep Peg Bag
Practical cotton peg bag by Sophie Allport. Features an integrated wooden hanger for convenient storage and use, featuring lovely Jacob and Suffolk Sheep on a grey background. 100% cotton Integrated wooden coat hanger Size: 30cm x 30cm Holds approx 40 standard sized pegs Hand wash only
Sophie Allport Sheep Door Stop
Quirky country Sheep Door Stop by Sophie Allport, featuring Jacob and Suffolk Sheep on a grey background. Size: 28cm x 57cm Outer fabric is 100% cotton Sponge clean only Filled with stone chippings & recycled fabric wadding
---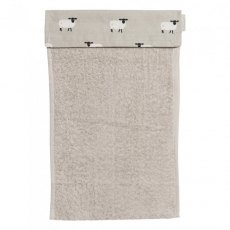 Sophie Allport Sheep Roller Hand Towel
This practical hand towel by Sophie Allport can hung on your AGA, range or cooker rail. A lovely country design featuring Jacobs and Suffolk Sheep on a grey background. Hard wearing and absorbant, it is velcro fastened to avoid continually falling on the floor! Use in the kitchen on the cooker rail, a towel rail in the utility room or even the downstairs loo. Velcro fastening 100% cotton 29.4cm...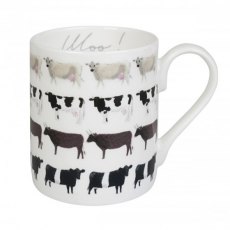 Sophie Allport Cows Moo! Mug
This stunning fine bone china mug is covered in different breeds of cow including the black and white Belted cow, the sandy coloured Highland cow, Jersey cow, Friesian Dairy cow and Aberdeen Angus Cow. Fine bone china Presented in a gift box Dishwasher and microwave safe Height: 8.3cm Capacity: 275ml capacity
---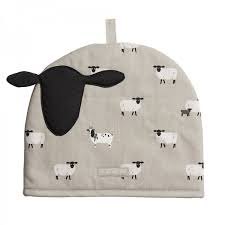 Sophie Allport Sheep Tea Cosy
Sheep tea cosy featuring Jacob and Suffolk Sheep on a grey background. Perfect for a country kitchen! This Tea Cosy is 100% cotton and has a terry towelling inner with a polyester wadding for brilliant insulation. Features a handy loop on top of the Tea Cosy so you can hang it up in your kitchen. 35cm (w) x 25.5cm (h) Hanging loop 100% cotton Polyester wadded for brilliant insulation One size Machine...
---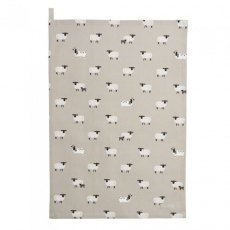 Sophie Allport Sheep Tea Towel
This grey Sheep tea towel by Sophie Allport is well suited to any country kitchen and will make your drying up a bit more enjoyable! Features: Hanging loop 100% cotton 45cm x 65cm Machine washable