---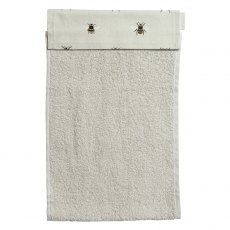 Sophie Allport Bees Roller Hand Towel
This practical hand towel can hang on your Aga, range or cooker rail. A lovely country design featuring bumble bees. Hard wearing and absorbant, it is velcro fastened to avoid continually falling on the floor. Use in the kitchen on the cooker rail, a towel rail in the utility room or even the downstairs loo. Velcro fastening 100% cotton 29.4cm x 45.5cm Machine washable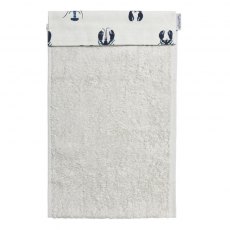 Sophie Allport Lobster Roller Hand Towel
These stylish lobsters stand out on this dune white background and feature subtle hints of blue, on this lovely roller hand towel, which sits perfectly on your cooker rail with the handy velcro fastening. Velcro fastening 100% cotton 29.4cm x 45.5cm Machine washable at 30 degrees (secure velcro before washing)
---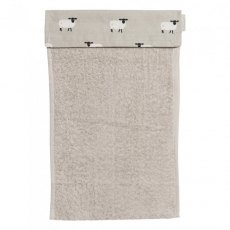 Sophie Allport Sheep Roller Hand Towel
This practical hand towel by Sophie Allport can hung on your AGA, range or cooker rail. A lovely country design featuring Jacobs and Suffolk Sheep on a grey background. Hard wearing and absorbant, it is velcro fastened to avoid continually falling on the floor! Use in the kitchen on the cooker rail, a towel rail in the utility room or even the downstairs loo. Velcro fastening 100% cotton 29.4cm...
Sophie Allport Zebra Roller Hand Towel
Keep your hands dry with this dark navy Zebra roller hand towel, which is sure to make a stylish statement to your kitchen. Designed to sit on your cooker rail and perfect for AGA owners, this roller hand towel has a velcro fastening so it won't slip off. Velcro fastening 100% cotton 29.4cm x 45.5cm Machine washable at 30 degrees (secure velcro before washing) Do not dry clean Iron at high...