---
Deluxe Serving Tongs 24cm
Kitchen Craft Deluxe S/S Serving Tongs 24cm Versatile stainless steel food tongs in a stylish design, suitable for cooking and also serving at the table. With large slotted clasping plates, the tongs are ideal for serving pasta, particularly spaghetti and tagliatelle. Dishwasher Safe
---
Kitchen Aid Silicone Tipped SS Tongs Black
hese premium KitchenAid silicone tipped tongs are high–quality and convenient, featuring a durable stainless steel frame with silicone tips to prevent scratching and a locking mechanism for easy storage: these tongs are simply a must–have for any kitchen. The tongs have a dishwasher safe design for added convenience: simply place the them into the dishwasher for a hassle–free clean...
MasterClass Deluxe Heavy Duty Tongs
Deluxe Heavy Duty Tongs The perfect tool for serving all types of food, the deeluxe food serving tongs feature a stylish brushed stainless steel finish and a non-slip, soft grip side panels to ensure a comfortable hold. The large clasping plates, integral locking rings keep the tongs together when not in use and storage hanging loops allow for easy storage whilst reducing kitchen clutter. ...
---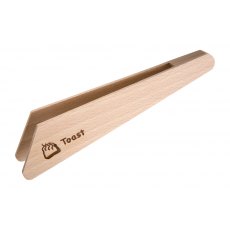 Tongs Beech Wood 17cm
These handmade wooden Redecker Toast Tongs are a safe way to remove toast, bagels, crumpets and waffles from the toaster without burning your fingers. Size: 17.5 cm Material: Untreated Beechwood