---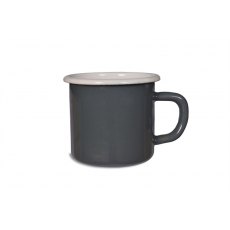 Enamel Mug in Charcoal
Contemporary Enamel Mug in Charcoal by Garden Trading that adds a touch of style that can warm up any kitchen. The dark, bold colour offers a contrast to many pastel and neutral kitchen ranges. Perfect for tea, coffee and hot chocolate, this rounded mug has plenty of personality despite its effortlessly simple design. Size: H8 x W12 x D9cm Material: Scratch resistant Enamel Care: Dishwasher...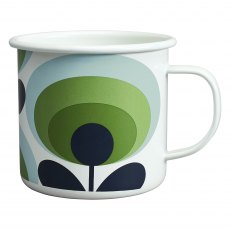 Orla Kiely Apple Enamel Mug
Poor a brew in this 70s Flower enamel mug from Orla Kiely. Made from durable enamel, this white mug features Orla Kiely's distinctive Oval Flower pattern. Material: Enamel
---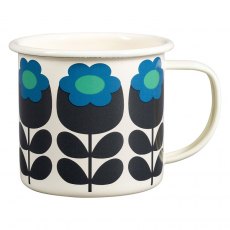 Orla Kiely Primrose Emerald Enamel Mug
Enjoy a brew with this retro inspired Enamel Mug from Orla Kiely. The Primrose Emerald print will brighten any kitchen interior, whether retro or contemporary and the simple, yet sophistication design brings vibrant design to everyday living. The hardwearing enamel design makes it perfect for indoor use, on sunny days in the garden or picnics further afield. Material: Enamel Capacity: 400ml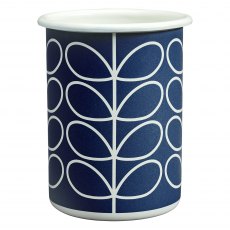 Orla Kiely Slate Enamel Tumbler
Enjoy a refreshing beverage in this Linear Stem Enamel tumbler from Orla Kiely. Made from strong and durable enamel, this charming tumbler features one of Orla Kiely's iconic patterns, the Linear Stem pattern. Material: Enamel
---
White Enamel Water Pitcher
Serve up a treat with this Crisp White Enamel Pitcher by Garden Trading. The generous and open design stands out for its elegant proportions and natural simplicity. The large jug holds 2.8 litres and comes with a sturdy handle and pointed spout for ease of carrying and pouring. The marbled design also makes it perfect for use as a vase for brightly coloured blooms. Dimensions: H26 x W20.5 x D15cm Capacity:...