---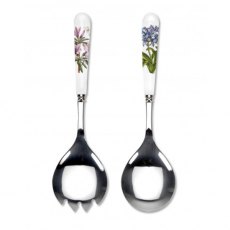 Botanic Garden Salad Servers
A true British classic, Botanic Garden was designed by the celebrated designer Susan Williams-Ellis. Botanic Garden's delightful mixture of pretty floral motifs and signature leaf border set a new trend for casual dining in the 1970s and today Botanic Garden looks as pretty as a daisy. These delightful Botanic Garden Salad Servers feature the Lily Flowered Azalea and African Lily motifs - a great...
Mikasa Drift Salad Servers
Mikasa Drift Salad Servers The large fork and spoon have a striking blue and white mark-making pattern and are beautifully made of melamine. Melamine is a lightweight, durable material and with an organic-inspired pattern.
---