---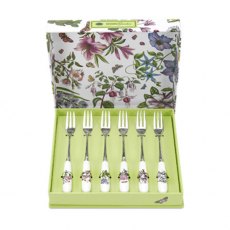 Botanic Garden Pastry Fork Set of 6
A true British classic, Botanic Garden was designed by the celebrated designer Susan Williams-Ellis. Botanic Garden's delightful mixture of pretty floral motifs and signature leaf border set a new trend for casual dining in the 1970s and today Botanic Garden looks as pretty as a daisy. These pretty Botanic Garden Pastry Forks come as a set of 6 and feature a variety of motifs - the perfect accessory...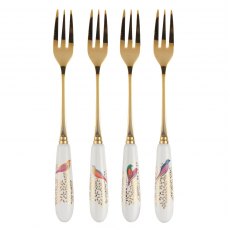 Sara Miller Chelsea Collection Pastry Forks Set Of 4
Beautiful Sara Miller London for Portmeirion set of Pastry Forks from her Chelsea Collection. The finishing touch to a perfect afternoon tea, this set of 4 pastry forks features beautiful porcelain handles and stainless steel forks that are both embellished with 22 carat gold. Hand wash only. Not suitable for dishwasher.
---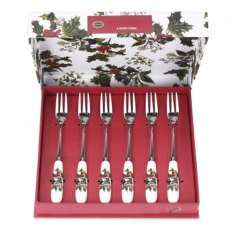 The Holly & The Ivy Pastry Fork Set Of 6
Ideal for the Christmas season, The Holly and The Ivy makes a fabulous meal-time accessory at festive occasions from dinner parties to informal get-togethers. This Holly and The Ivy Pastry Forks are a great way to eat cake at Christmas. This product is designed in our studios in Stoke on Trent, England.This item is manufactured outside of the UK to the stringent quality and craftsmanship that Portmeirion...

Marshmallow Fork
Have a good time around the fireplace and enjoy tasty marshmallows. Put one or more marshmallows on the stick and hold it by the wooden handle. The long handle means this stick is perfect for open flames, while keeping a safe distance. Easy to hang with the hole at the end of the handle. Hanging hole Long handle with wooden grip