---
Sara Miller Scented Drawer Liners
Six beautiful drawer liners by Sara Miller, infused with a uniquely indulgent fragrance. The enchanting design brightens up drawers and cupboards whilst the fragrance leaves your favourite things softly scented. The fragrance is of bright bergamot and delicate just-picked peony, with the mellow sweetness of amber and cedarwood.An elegant gift for a friend, auntie, mum or for you.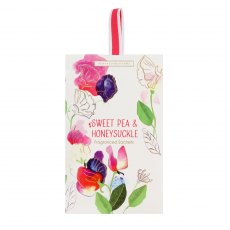 Sweet Pea & Honeysuckle Fragranced Sachet
Keep your room, draws or cupboards fresh with this Frangrance Sachet. Sweet Pea flowers celebrate warm sunny days and when given, say "Thank you for a lovely time." The cheerful scent of fresh sweet peas entwined with honeysuckle on a sun drenched wall. Romantic white jasmine and gardenia flowers, the gentle greenness of crushed leaves shimmer above watery notes balanced with hints of...