Guess How Much I Love You
---
---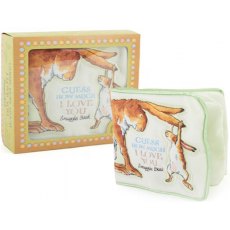 Guess How Much I Love You Snuggle Cloth Book
A lovely snuggle cloth book presented in a delightful gift box. The softest, snuggliest, under-the-blankets bedtime or anytime companion From the Guess How Much I Love You range. The perfect gift for that special baby. Size: 18.5cm x 18.5cm x 5.5cm. Suitable from birth.
---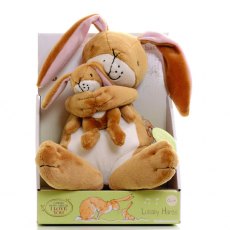 Guess How Much I Love You Lullaby Hare
From the endearing Guess How Much I Love You picture book this adorable Lullaby Hare features Big Nutbrown hare and Little Nutbrown Hare. Made from soft plush just turn the key to play a soothing Lullaby and watch Big Nutbrown Hare's head move as he soothes Little Nutbrown Hare to sleep. The lullaby hare encourages babies to use their senses. Size: H24, W17, D14cm. Batteries required: 3 x button...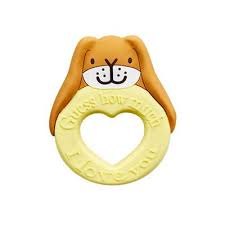 Guess How Much I Love You Nutbrown Hare Teether
Durable Nutbrown Hare teether from the classic tale; Guess How Much I Love You will help soothe irritable gums and stimulate the growth of your baby's teeth. This teething ring rattle is made from natural material that is flexible, heat-proof and washable ensuring that it is highly resilient and reusable. 100% Silicone, BPA free. Dimensions: 8.5 x 7 x 1.5cm approx. Suitable from Birth
---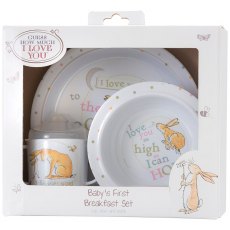 Guess How Much I Love You Breakfast Set
Beautiful Guess How Much I Love You 3 piece breakfast set. This breakfast set includes endearing messages of 'I love you as high as I can hop', 'Guess how much I love you', 'I love you to the moon and back' as well as illustrations from the classic books. Included in this set is a sippy cup, bowl and plate all made from durable melamine plastic. 100% melamine
Guess How Much I Love You Categories