Gentlemen's Hardware
---
Gentlemen's Hardware Recycled Leather & Black Tan Bi-Fold Wallet
This traditional-style Bi-Fold Wallet made from black and light-tan recycled leather fibers could answer all your wallet wishes! With a large back pocket for notes and 6 card pockets, it's a simple, streamlined design that's soft yet hardwearing and will age beautifully. Dimensions: 5 x 100 x 75mm
Gentleman's Hardware Travel Wallet Recycled Leather Black & Tan
his Gentlemen's Hardware Recycled Leather Travel Wallet will add an edge to your travel accessories. It's passport-sized with an accompanying black pen and multiple pockets to hold all travel documents in one place. Soft and sleek, it comes in its own box and measures 10 x 110 x 90mm.
---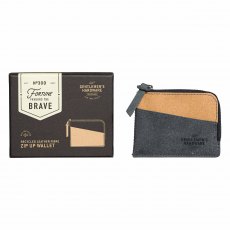 Gentleman's Hardware Zip Up Wallet Recycled Leather Black & Tan
The Gentlemen's Hardware Zip Up Wallet is made from black and tan recycled leather and has been designed to hold all you coins, notes and cards together without the bulk or bulge! It has 2 inner and outer card pockets and is a nicely pocket-sized at 20 x 115 x 95mm. Presented in a branded gift box.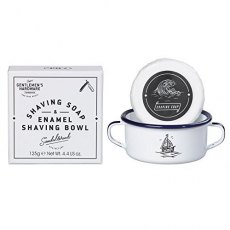 Gentleman's Hardware Shaving Soap & Enamel Bowl
This vintage style enamel shaving dish with boat design and sandalwood fragranced soap makes the perfect, stylish addition to your shaving routine. Durable and portable, ideal for sprucing up at home, while camping or on other adventures and travels.
---
Gentleman's Hardware Bicycle Tool Kit in a Wooden Box
Bicycle Tool Kit in a Wooden Box has all manner of stainless steel instruments to keep the spokes turning on the open road. There are 4, 5 & 6 hex keys, a posi drive screwdriver, a T25 torque head driver and a flathead screwdriver, all laid out neatly in a custom wooden box for easy storage and transportation.
---
Gentleman's Hardware Tool Kit In Wooden Box
A mini tool kit in a box! The Handy Man Tool Kit by Gentleman's Hardware in a Beech Wood Box brings together all the fixing-up necessities for a DIY enthusiast. The solid beech case, with neat handle and traditional latch fastenings, holds a hammer, tape measure, wooden ruler with spirit level, pliers, multi-ratchet screwdriver and, of course, a pencil! Each premium-quality piece is strong, ergonomic...
---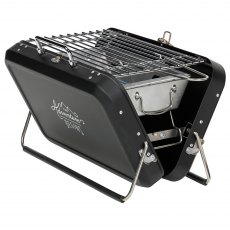 Gentlemen's Hardware Barbecue
A neat idea that will see you grilling up a feast wherever you travel. This mini suitcase-style portable barbecue is versatile and lightweight, ideal for camping or festivals alike. Comes designed with the words "The Adventure Begins".
Gentlemen's Hardware Portable Barbecue
Nifty, portable and versatile suitcase-style barbecue. Includes a grill and coal tray. Perfect for picnics, camping and summer festivals. Dimensions: 260 x 390 x 90mm Material: Stainless steel with a navy powder coated finish
---
Gentleman's Hardware Shoe Shine Cigar Box
This retro style wooden cigar box by Gentleman's Hardware, re-purposed as a natty shoe-shine kit. With these tools of a shoe-shining pro, you'll have everything you need to put your best foot forward. Buff-up with black polish and add a glossy sheen with the neutral cream. Swipe away dirt and lift dullness with the traditional dauber brush and a hard buffing brush; add gleam by using the accompanying...
Gentlemen's Hardware Categories