Flamingo Collection
---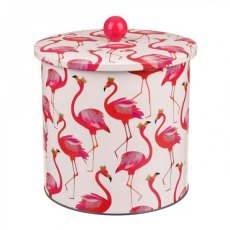 Sara Miller Flamingo Biscuit Barrel
This stunning Sara Miller Biscuit Barrel is made from metal and features her fabulous flamingos depicted in stunning shades of fuschia, purple and pink and set against a plain cream background. Height 17cm, Diameter 17cm Material: Tin Care: Wipe clean only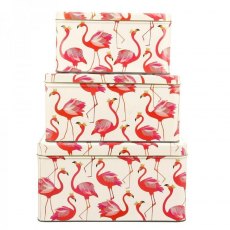 Sara Miller Flamingo Set of 3 Cake Tins
Sara Miller set of 3 square cake tins. Each tin is made from metal and features her fabulous flamingos depicted in stunning shades of fuschia, purple and pink and set against a plain cream background. MeasurementsLarge: 24.5cm x 24.5cm x 13cmMedium: 22cm x 22cm x 11cm Small: 19.2cm x 19.2cm x 10cm Material: Tin Care: Wipe clean only
---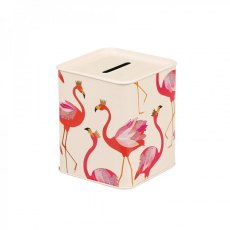 Sara Miller Flamingo Money Box
The Sara Miller London Flamingo Collection is a quirky and playful design, brimming with personality. This tin moneybox has gorgeous gold detailing and is a wonderful new addtion to the Flamingo Collection. Dimensions: H9.2cm x W7.7cm x D7.7cm Care instructions: Wipe clean with a cloth and dry immediately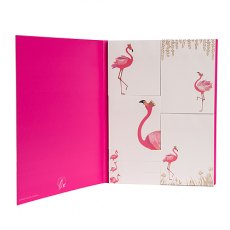 ---
---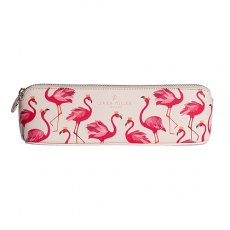 Sara Miller Flamingo Luxury Pencil Case
This slim Sara Miller pencil case is the perfect size to carry around with you on a busy work day or to simply sit on your desk at work. It is made from a textured matt PU and finished with a Sara Miller embossed zip pull. This pencil case is covered in the beautiful flamingo print that will be sure to brighten up your hectic work day. Textured matt fabric Embossed Sara Miller logo metal zip...
---
Sara Miller Flamingo Luxury Cosmetic Mirror
Pocket size cosmetic mirror is perfect to stay looking beautiful on the go, slip it in your handbag for quick check-ups throughout the day. The mirror is encased in a high quality matt fabric wallet both are adorned with Sara Miller's gorgeous flamingo design. Textured matt fabric wallet Handy pocket size cosmetic mirror Approx. Size: 8.7cm x 9cm x1cm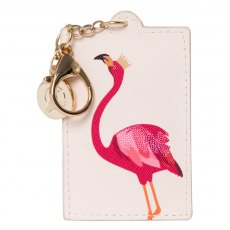 Sara Miller Flamingo Keyring
Enchanting Sara Miller keyring featuring her beautiful Flamingo design. This matt fabric keyring is accessorised with a Sara Miller metal dangler.
---
---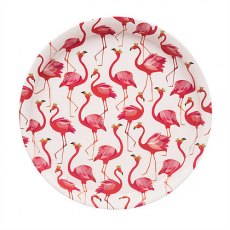 Sara Miller Flamingo Round Tray
The Sara Miller London Flamingo Collection is a quirky and playful design, brimming with personality. This vibrant round tray will brighten up any afternoon tea or family gathering. Material: Tin Care instructions wipe clean with damp cloth and dry immediately H3cm x W30 x D30cm