Flamingo Collection
---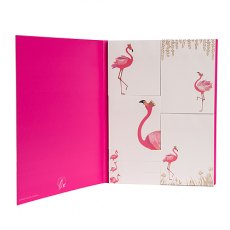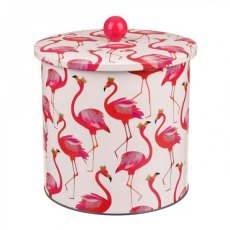 Sara Miller Flamingo Biscuit Barrel
This stunning Sara Miller Biscuit Barrel is made from metal and features her fabulous flamingos depicted in stunning shades of fuschia, purple and pink and set against a plain cream background. Height 17cm, Diameter 17cm Material: Tin Care: Wipe clean only
---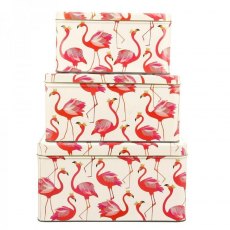 Sara Miller Flamingo Set of 3 Cake Tins
Sara Miller set of 3 square cake tins. Each tin is made from metal and features her fabulous flamingos depicted in stunning shades of fuschia, purple and pink and set against a plain cream background. MeasurementsLarge: 24.5cm x 24.5cm x 13cmMedium: 22cm x 22cm x 11cm Small: 19.2cm x 19.2cm x 10cm Material: Tin Care: Wipe clean only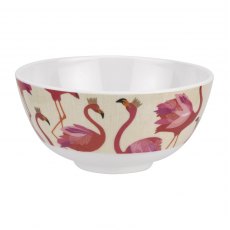 Sara Miller London Flamingo Collection Melamine Bowl
The colourful Sara Miller London Portmeirion Flamingo Collection bowl is made from BPA-free and shatterproof melamine. It is perfect for stylish outdoor and indoor dining. Material: Melamine Dimensions: 15cm / 6" Product care: Dishwasher Safe
---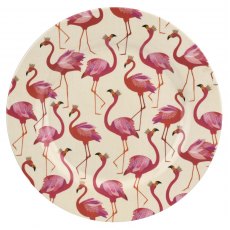 Sara Miller London Flamingo Collection Melamine Dinner Plate
The colourful Sara Miller London Portmeirion Flamingo Collection dinnerplate is made from BPA-free and shatterproof melamine. It is perfect for stylish outdoor and indoor dining. Material: Melamine Dimensions: 28cm / 11" Product care: Dishwasher Safe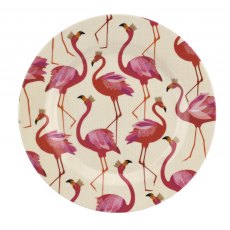 Sara Miller London Flamingo Collection Melamine Side Plate
The colourful Sara Miller London Portmeirion Flamingo Collection side plate is made from BPA-free and shatterproof melamine. It is perfect for stylish outdoor and indoor dining. Material: Melamine Dimensions: 20cm / 8" Product care: Dishwasher Safe
---
Sara Miller Flamingo Luxury Cosmetic Mirror
Pocket size cosmetic mirror is perfect to stay looking beautiful on the go, slip it in your handbag for quick check-ups throughout the day. The mirror is encased in a high quality matt fabric wallet both are adorned with Sara Miller's gorgeous flamingo design. Textured matt fabric wallet Handy pocket size cosmetic mirror Approx. Size: 8.7cm x 9cm x1cm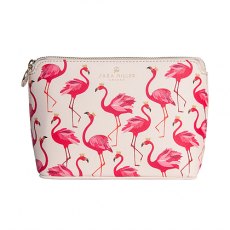 Sara Miller Flamingo Small Luxury Cosmetic Bag
Sara Miller cosmetic bag. Enter a new world with this delightful flamingo printed cosmetic bag created out of a high quality matt fabric and lined with the vivid fuchsia coloured lining; and finished will the Sara Miller seal of approval embossed on the zip pull in gold. Keep safe all your cosmetics, toiletries or hand bag essentials. Textured matt fabric Embossed Sara Miller logo metal zip...
---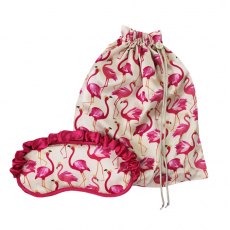 Sara Miller Bag & Eyemask Flamingo
Travel in style with this Silk Eye Mask & Travel Bag Set from Sara Miller. Made from 100% silk, it includes a lightly cushioned eye mask and a practical travel bag adorned with a whimsical flamingo design. The eye mask sits softly on the face whilst blocking the light and the covered elastic strap ensures maximum comfort without damaging the hair. Material: 100% silk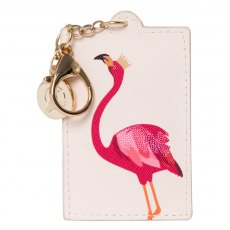 Sara Miller Flamingo Keyring
Enchanting Sara Miller keyring featuring her beautiful Flamingo design. This matt fabric keyring is accessorised with a Sara Miller metal dangler.
---
---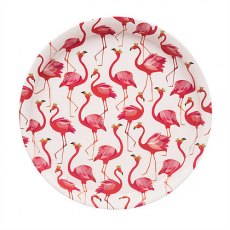 Sara Miller Flamingo Round Tray
The Sara Miller London Flamingo Collection is a quirky and playful design, brimming with personality. This vibrant round tray will brighten up any afternoon tea or family gathering. Material: Tin Care instructions wipe clean with damp cloth and dry immediately H3cm x W30 x D30cm