Emma Bridgewater Pink Hearts
---
---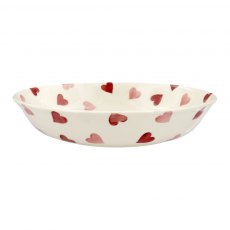 Emma Bridgewater Pink Hearts Small Pasta Bowl
Keep the family happy at meal times with this Emma Bridgewater Pink Hearts Small Pasta Bowl. Height: 4.2cm Diameter: 20.9cm Capacity: 426ml Care: Dishwasher & microwave safe. Lower temperature wash and liquid detergent recommended to maintain appearance.
---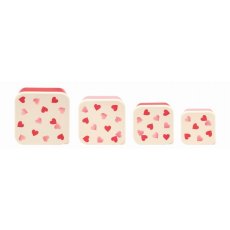 Emma Bridgewater Pink Hearts Snack Tubs
The plastic tubs sit inside each other for storage and are made from sturdy plastic with tight fitting lids. They should be washed in hot soapy water and are not suitable for dishwashers. BPA free. This practical set is perfect for food storage and lunchboxes for little ones as well as the bigger kids! Measurements Large tub: 13.5cm x 6cm Medium tub: 11.5cm x 5.5cm Small tub: 10.2cm x 5cm Smallest...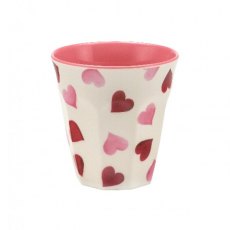 Emma Bridgewater Pink Hearts Melamine Beaker
These Pink Hearts Melamine Beakers were designed by Emma Bridgewater with children in mind, but people of all ages love them and use them as often as they can. Height: 9cm (3.5") Width: 8.5cm (3.25") Care Instructions: Wash by hand with soft sponge or dishwasher top shelf, avoid scrubbing with scouring pad; dishwashing of any sort will wear patterns. Not for use in microwave. Made From: Melamine
---
---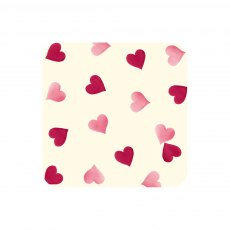 ---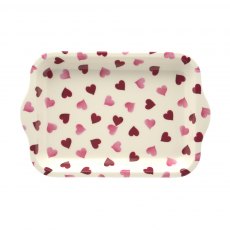 Emma Bridgewater Pink Hearts Small Melamine Tray
Quality Melamine Tray featuring Emma Bridgewater's Pink Hearts print. Height: 14.5cm x Width 22.1cm Care Instructions: Wash by hand with soft sponge. Avoid scrubbing with scouring pad. Not dishwasher or microwave safe