Emma Bridgewater Men At Work
---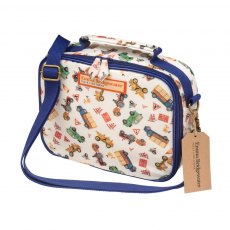 Emma Bridgewater Men At Work PVC Lunch Bag
Quality PVC Lunch Bag decorated with Emma Bridgewater's Men At Work print. Size: 20 x 26cm Care Instructions : Do not wash, iron or bleach; wipe with a damp cloth and dry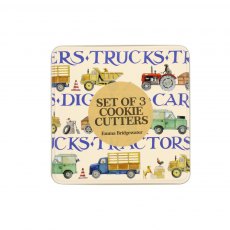 Emma Bridgewater Men at Work Cookie Cutters in Tin
Get the family involved in home baking with these Emma Bridgewater Men at Work set of 3 cookie cutters. And the handy trucks and diggers Tin will keep the cutters in perfect condition when they're put away. Size: 4cm Material: Steel Wipe with a damp cloth & dry thoroughl
---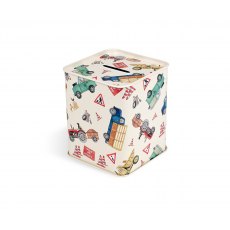 Emma Bridgewater Builders At Work Money Box
Nurture tomorrows accountant or stockbroker with this Emma Bridgewater lively and motivating Builders at Work Money Box. Dimensions: 9.2 x 7.7. x 7.7cm Care: Wipe clean only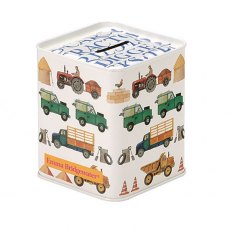 Emma Bridgewater Men At Work Money Box
A really nice tin Men at Work Money Box by Emma Bridgewater for little boys to save their pennies! Height: 9cm Width: 7.5cm Care Instructions: Wash gently with damp cloth, dry immediately, do not immerse in water Made From: Hand pressed stainless steel Product Wording: CARS TRACTORS LORRIES DIGGERS TRUCKS (on top)
---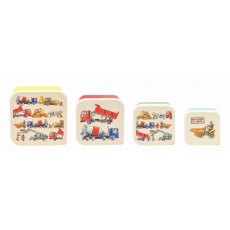 Emma Bridgewater Builders At Work Snack Tubs
These brightly illustrated tubs sit inside each other for storage and are made from sturdy plastic with tight fitting lids. They should be washed in hot soapy water and are not suitable for dishwashers. BPA free. This practical set is perfect for food storage and lunchboxes for little ones as well as the bigger kids! Measurements Large tub: 13.5cm x 6cm Medium tub: 11.5cm x 5.5cm Small tub:...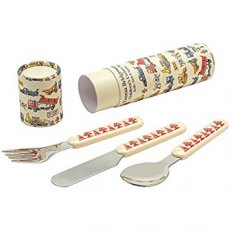 Emma Bridgewater Builders At Work 3 Piece Cutlery Set
This set of cutlery from Emma Bridgewater features the Builders at Work design on the tube shaped box with colourful drawings of diggers, tractors, dumper trucks and lorries. The cutlery handles features illustrations of cones and traffic signs. Cutlery measures approx: 14.5cm long x 3.5cm wide Material: ABS Plastic & Steel Care: Hand wash in hot soapy water; not suitable for dishwasher.
---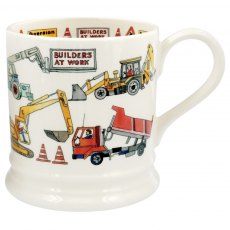 Emma Bridgewater Builders At Work 1pt Mug
A mug big enough for thirsty workers on the go! Height: 10.9cm Diameter: 14.4cm Capacity: 483ml Care: Dishwasher & microwave safe. Lower temperature wash and liquid detergent recommended to maintain appearance.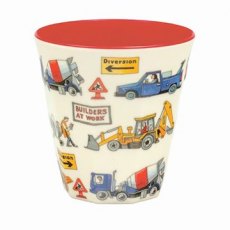 Emma Bridgewater Builders At Work Melamine Beaker
This durable Emma Bridgewater Melamine Beaker decorated with brightly coloured diggers, tractors, dumper trucks and lorries makes the perfect beaker for picnics, parties and outdoor dining. Diameter : 9cm Care Instructions: Wash by hand with soft sponge. Avoid scrubbing with scouring pad. Not dishwasher or microwave safe
---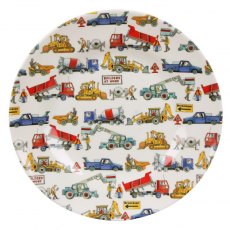 Emma Bridgewater Builders At Work Melamine Plate
This durable Emma Bridgewater Melamine Dinner Plate decorated with brightly coloured diggers, tractors, dumper trucks and lorries makes the perfect plate for picnics, parties and outdoor dining Height : 3cm Width: 25cm Care Instructions: Wash by hand with soft sponge. Avoid scrubbing with scouring pad. Not dishwasher or microwave safe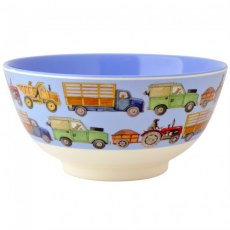 Emma Bridgewater Men At Work Melamine Bowl
High quality melamine bowl decorated with Emma Bridgewater's Men At Work print. This durable bowl is beautifully illustrated with Diggers, Lorries and dogs driving Tractors! Height 7.5cm Diameter 15.1cm Care Instructions Wash by hand with soft sponge. Avoid scrubbing with scouring pad. Not dishwasher or microwave safe
---