Emma Bridgewater Hen & Toast
---
Emma Bridgewater Hen & Toast Apron
Emma Bridgewater Hen & Toast Apron This lovely apron is printed with the Emma Bridgewater pattern, Hen & Toast. This delightful pattern has a rustic, farmyard appeal, and features colourful images of hens strutting and pecking on the front pocket. The design is by Matthew Rice, and he also drew the elegant lettering which is printed across the main part of the apron, with the wording: SOMETHING...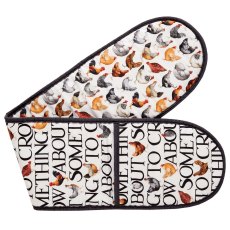 Emma Bridgewater Hen & Toast Double Oven Glove
Add a fun touch to any kitchen. Made from pure cotton, the oven gloves are machine washable for your convenience. Coordinate with the matching apron and tea towels.This pair of double oven gloves combines two of Emma Bridgewater's most popular designs: Hens and Black Toast. Two different patterns on either side feature hen motifs and 'Something to Crow About' wording.
---
Emma Bridgewater Hen & Toast Pot Grab
Emma Bridgewater Hen & Toast Pot Grab This beautiful Hen & Toast Pot Mitt by Emma Bridgewater is handy to use and - with its matching loop - handy to hang right where you may need it most. Size: 23 x 23cm Material: 100% Cotton Outer Polyester Inner Machine Washable