---
Dog Ring Holder
Dog Ring Holder Novelty ring holder to brighten up your dressing table Height: 11cm, Width: 5cm, Depth : 2cm
Fish Ring Holder
Fish Ring Holder Novelty ring holder to brighten up your dressing table H: 6.5cm W: 10cm D: 2.4cm
---
Ted Baker Black Gloss lacquered Jewellery Box
Elegant hand lacquered Ted Baker Jewellery Box in black gloss featuring a soft grey suedette lining with one spacious interior section. Includes soft close hinges and a rose gold bow detail with a branded 'T' at the close. Presented in a two-piece, soft touch gift box with rose gold edging. Dimensions: 66 x 199 x 159mm
Ted Baker Small Black lacquered Jewellery Box
Elegant hand lacquered, two-piece Ted Baker Jewellery Box in black gloss featuring a soft grey suedette lining. Includes soft close hinges and a rose gold bow detail with a branded 'T' at the close. Presented in a two-piece, soft touch gift box with rose gold edging. Dimensions: 61 x 109 x 109mm
---
Ted Baker Small Pink lacquered Jewellery Box
Elegant hand lacquered, two-piece Ted Baker Jewellery Box in pink gloss featuring a soft grey suedette lining. Includes soft close hinges and a rose gold bow detail with a branded 'T' at the close. Presented in a two-piece, soft touch gift box with rose gold edging. Dimensions: 61 x 109 x 109mm
Ted Baker Small White lacquered Jewellery Box
Elegant hand lacquered, two-piece Ted Baker Jewellery Box in white gloss featuring a soft grey suedette lining. Includes soft close hinges and a rose gold bow detail with a branded 'T' at the close. Presented in a two-piece, soft touch gift box with rose gold edging. Dimensions: 61 x 109 x 109mm
---
Ted Baker Splendour Jewellery Roll
Keep your accessories under wraps with this stylish Jewellery Roll from Ted Baker. Featuring Ted's new dreamy floral Splendour design, the elegant jewellery accessory opens flat to reveal a zipped compartment, perfect for keeping loose accessories secure, a detachable zip case and two straps for holding earrings and rings are at the centre of the roll. Folding neatly shut with a popper closure, store...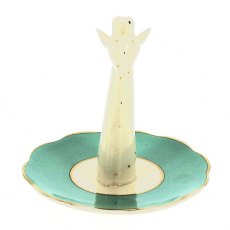 Yvonne Ellen Jewellery Holder
This super stylish ceramic jewellery holder by Yvonne Ellen comes in an attractive pale-pink gift box making it ready to gift. A charming giraffe shape holder finished with a metallic gold trim, makes a gorgeous and useful way to store rings, necklaces and other jewellery accessories.
---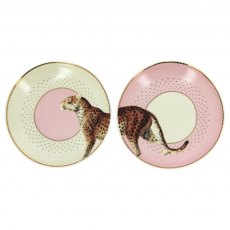 Yvonne Ellen Trinket Trays
Fashionable and Quirky ceramic Trinket Trays by Yvonne Ellen. These gorgeous trays feature beautiful gilt gold detailing and are presented in a gift box. Size: 11.5cm diameter Material: Ceramic