Bates Large Bowl
Product Description
A large serving bowl for salad or pasta
Our Portuguese maker has the art of making ceramics running through his veins. They have for over a century employed talented artisans to keep the traditional potting methods alive to create these wonderfully simple pots.
Made from terracotta, which derives its name from the Italian meaning 'baked earth' this was the only ceramic produced by western civilisation until the 14th Century. In ancient times, the first clay sculptures were dried, or baked, in the sun after being formed. Later, they were placed in the ashes of open hearths to harden, and finally kilns were used, like those used at our pottery today to fire to high temperatures to create a functional ceramic material.
Handmade in Portugal, in a pottery owned by a third generation of a passionate family of potters.
D40 x H11cm
Home Delivery
UK mainland delivery from £3.95
People who bought this also bought...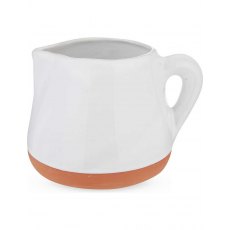 ---