---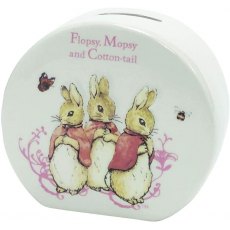 Beatrix Potter Flopsy Money Box
Beatrix Potter Flopsy Money Box Beatrix Potter Ceramic with original illustration decoration Stopper at base Gift boxed Height 10 cm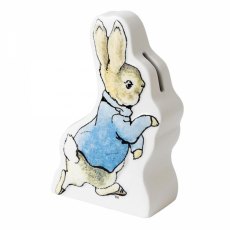 Peter Rabbit Running Money Bank
This classic Peter Rabbit new baby money bank would make a wonderful christening gift, or even birthday gift. Encourage little ones to look after those precious pennies, with their very own money bank. The artwork for each product is taken from the original illustrations from the Beatrix Potter stories. Material: Ceramic Height: 17cm Presented in a branded gift box
---
Guess How Much I Love You Soft Toy With Muslin Gift Set
GMILY Soft Toy With Muslin Gift Set The beautiful Guess How Much I Love Toy and Muslin Set from Rainbow Designs includes an adorable Nutbrown Hare Soft Toy and three illustrated 60cm x 60cm, 100% cotton, machine washable muslins. Suitable Age - From Birth Size (cm) - 6l x 24w x 20h Weight Incl Packaging (Kg) - 0.373
Miko The Panda Baby Hat
Ideal for keeping little heads warm, this Miko the Panda hat is made from 100% cotton and features an adorable pair of panda ears. 100% cotton Width: 17cm Turn inside out to wash Wash at 30 degrees Material:Cotton, Card, Tissue Paper Dimensions: Length: 14 cm Width: 17 cm
---
Peter Rabbit Soft Toy & Cuddle Robe Gift Set
Peter Rabbit Soft Toy & Cuddle Robe Gift Set Parents and gift buyers will adore this gorgeous gift set which features both a cute and a practical gift perfect for babies and infants. The Peter Rabbit Soft Toy and Cuddle Robe Set combines classic character, quality products and stunning presentation to create a must-have gift. Featuring Beatrix Potter's evergreen storybook character Peter...
---
Spot The Dog Jiggle Attachable Toy
Spot The Dog Jiggle Attachable Little ones can have plenty of Fun with Spot with this fun, tactile and engaging Jiggle Attachable Toy! Spot is Eric Hill's famous playful puppy who is full of curiosity, helpfulness, and a huge desire to learn making this little pup the perfect travel time companion for little ones to take on their adventures. The baby soft Spot Jiggle toy is the perfect size for...