---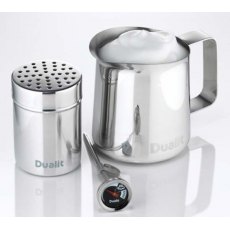 Dualit Barista Coffee Kit
Use the Dualit Milk frothing jug, Chocolate shaker and Thermometer to create and impress with your own 'Latte Art' - everything you need to sprinkle some magic on your perfect coffee. A great gift for any coffee lover.
Dualit Burr Coffee Grinder
Dualit's conical coffee grinder produces consistently ground coffee and preserves the maximum aroma of the bean. This is only possible with a conical burr grinder which spins more slowly than other types of coffee grinders, minimising the clogging effect of oily or flavoured beans and producing less heat. Hopper capacity: 250g Colector capacity: 220g Grinding type: Burrs Dimensions: 19 x 14 x...
---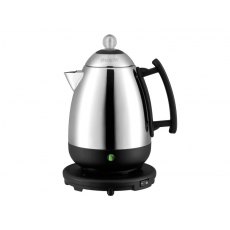 Dualit Coffee Percolator
Dualit's cordless percolator is perfect for entertaining and makes up to 10 cups of coffee in just 10 minutes. Stylish enough to take straight to the table. The 'stay warm' function allows you to make your coffee and keep it hot and ready to drink. With a on/off button and automatic off after 45 minutes it's a kitchen must have. Capacity: 1.5 litres Makes up to 10 large or 12 smaller cups of...