---
Spice Crusher Pestle and Mortar in Granite
Season perfectly with the Spice Crusher in Granite by Garden Trading. The rounded and compact fit makes crushing of peppercorns, seeds and spices effortless and ready to add to your culinary creations. This quality pestle and mortar comes beautifully boxed making a perfect gift for any keen cook. It is recommend that you rinse the Spice Crusher with hot water before first use. Dimensions: H10...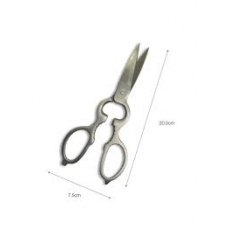 Stainless Steel Kitchen Scissors
These stainless steel Kitchen Scissors by Garden Trading are the perfect gadget for keeping in the kitchen drawer. From cutting string and baking paper to snipping herbs from the garden and cutting through meat and shellfish, these multipurpose Kitchen Scissors are durable and certainly won't let you down. Complete with built in nutcracker function too! Dimensions: H0.5 x W20.5 x D7.5cm Material:...