---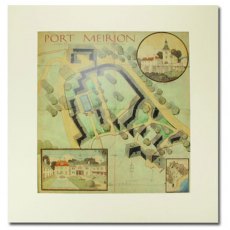 Draft Plan of Portmeirion Village: Mounted Architectural Design by Clough Williams-Ellis
Draft Plan of Portmeirion Village, c.1925 A copy of the original architectural drawings of Portmeirion by Clough Williams-Ellis; this Mounted Architectural Design of his Draft Plan of Portmeirion Village is a fantastic gift for any Portmeirion / architecture enthusiast. In 1925, just five miles from his home at Plas Brondanw, Clough Williams-Ellis acquired a Victorian mansion called Aber Iâ...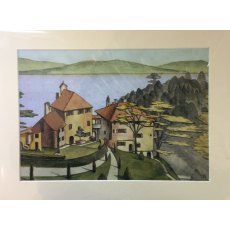 View From Chantry by Meryl Watts Mounted Print
View ffrom Chantry, Meryl Watts, pencil & watercolour, 1947. Meryl Watts (1910-1992) first exhibited her work in 1937. In 1943 her parents' London house was damaged by bombs and her father's printing works destroyed. Their circle of acquaintances included Clough William Ellis who arranged for the family to be evacuated to Portmeirion where they stayed for five years. Meryl Watts painted several...