---
Fresh Force Can Opener
Kitchen Craft Chef'n Fresh Force Can Opener Sharp, durable stainless-steel blades will ensure that troublesome can opening is a thing of the past. Featuring a magnetic lid remover, this compact can opener will not only be a stylish addition to your kitchen drawer, it's much safer to use too. Compact design for easy storage Magnetic lid remover Sharp durable stainless steel blade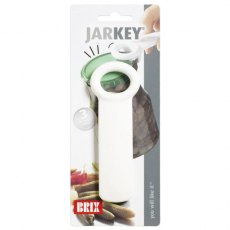 Jarkey Carded Jar Opener
Unique design for quick and easy opening, that allows jars to be opened by popping, and not twisting Handwash Only
---
MasterClass Smart Space Compact Can Opener
Masterclass Smart Space Compact Can Opener Although small in size it features a powerful stainless steel mechanism that makes light work of opening all types of cans and tins. The twist-to-open mechanism grips onto the edges of cans so all you have to do is keep twisting to remove lids quickly and cleanly. Its space saving compact design also means it fits neatly into the palm of a hand for comfort...
Oval Handled Can Opener
Kitchen Craft stainless steel heavy duty can opener, with a comfortable oval shaped handle and integral hanging storage loop. Dishwasher safe
---
Swing A Way Comfort Grip Can Opener
Swing A Way Comfort Grip Can Opener This soft-grip can opener is the latest durable kitchen tool you can rely on. A modern take on a kitchen essential, it's designed to make opening cans easier on your hands.Its ergonomic handles are finished with a soft-grip coating. It also has a high carbon cutting wheel with a skip-proof feed. There is alson a handy built-in bottle opener too. Manufactured...
---
Swing A Way Wall Can Opener
Swing A Way Wall Can Opener This Swing-A-Way Magnetic Wall Can Opener easy mounts to walls saving valuable drawer space. This can opener locks in three positions; swings right or left when not being used. Extremely durable metal construction with a high-carbon, gear-driven cutting wheel and skip-proof feed for smooth and easy usage. An integrated magnet safely lifts the lid off the can.