---
3 Tier Cake Tin English Sage
Living Nostalgia From Kitchen Craft Store your treats and cakes in beautifully traditional style set of three airtight cake tins. Stacking on top of one another for great space saving it reduces the clutter on your worktop surfaces. Available in Cream, Grey, Green and Blue Handwash only Airtight
Fish Storage Bag
Inspired by our love of the ocean, the soft, subtle shades and simple graphic patterns invoke a sense of calm and tranquility throughout the home. This functional Fish storage bag can help you can turn clutter into calm and make mess beautiful again. They provide a perfect home for an array of household items including toys, magazines, laundry and logs. Each fold-down laundry bin is decorated with...
---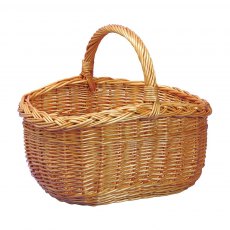 High Sided Hand Basket
This traditional wicker basket has high sides to ensure all items are stowed securely and there is support for taller goods. With a sturdy handle, this is ideal for shopping or storage. Size: 39cm x 44cm x 36cm
Kindling Box Wooden
Rustic in design the Kindling Box in Spruce makes a great fireside accessory. The simple, chunky design has a central handle for ease of carrying and can sit neatly next to the hearth or log burner. The striking 'KINDLING' graphic gives it that finishing touch.
---
MasterClass Collapsible Laundry Basket
Masterclass Collapsible Laundry Basket This 60.5cm x 40cm x 28cm black and grey basket fully collapses for quick, convenient storage under the sink, in the car boot or the kitchen cupboard. With a little pressure, the flattened basket will become three dimensional- and deceptively strong. The collapsible sides are made of durable, flexible silicone to make it easy to fold, whilst the polypropylene...
SM Flamingo Small Rectangular
Sara Miller Flamingo Small Rectangular Tin Add a quirky touch with this small Flamingo Tin by Sara Miller London. Featuring playful flamingos prancing amongst exotic foliage, this tin is perfect for keeping your home tidy and is ideal for storing small trinkets.
---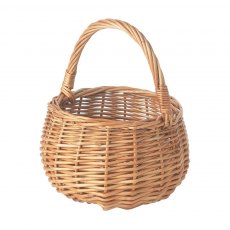 Small Mini Round Basket
Great for picnics, shopping, storage or simply to leave in the car: a traditional wicker basket is always handy. This is a small, compact size and is light yet strong. Size 21cm x 16cm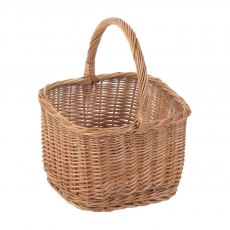 Square Hand Basket
A traditional sturdy wicker basket is always useful in any home. This basket is deep and strong, making it ideal for a number of uses from shopping to storage. Size: 36cm x 29cm x 29cm
---
SQUARE LOG BASKET
Beautifully handwoven Square Baskets provide indispensable storage for use throughout the home. Generously sized with sturdy handles they can sit neatly beside a sofa or bed for blankets and throws. They're also perfect for storing away children's toys and other accessories. Small 40x38 Large 52x46