---
Anorak Fish Storage Bag
Inspired by our love of the ocean, the soft, subtle shades and simple graphic patterns invoke a sense of calm and tranquility throughout the home. This functional Fish storage bag can help you can turn clutter into calm and make mess beautiful again. They provide a perfect home for an array of household items including toys, magazines, laundry and logs. Each fold-down laundry bin is decorated with...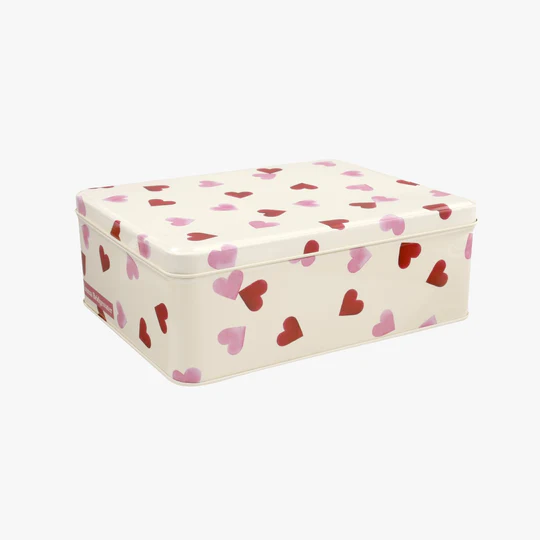 Emma Bridgewater Pink Hearts Medium Shallow Tin
The Pink Hearts Shallow Tin by Emma Bridgewater with the iconic heart sponge design is a perfect love-letter treasure chest to keep your personal trinkets safe. Material: Steel Dimensions: H 7.1cm x D 15.4cm x L 19.5cm Wipe with a damp cloth & dry thoroughly, not dishwasher/ microwave or oven proof.
---
Living Nostalgia 3 Tier Cake Tin
Living Nostalgia From Kitchen Craft Store your treats and cakes in beautifully traditional style set of three airtight cake tins. Stacking on top of one another for great space saving it reduces the clutter on your worktop surfaces. Available in Cream, Grey, Green and Blue Handwash only Airtight
Living Nostalgia Laundry Tin
Living Nostalgia Laundry Tin A Lovely vintage Laundry Tin to keep your washing tablets of powder. dry. With clear and classic printed text. With riveted side handles and a top lid handle for easy lifting and use. Handwash only
---
MasterClass Collapsible Laundry Basket
Masterclass Collapsible Laundry Basket This 60.5cm x 40cm x 28cm black and grey basket fully collapses for quick, convenient storage under the sink, in the car boot or the kitchen cupboard. With a little pressure, the flattened basket will become three dimensional- and deceptively strong. The collapsible sides are made of durable, flexible silicone to make it easy to fold, whilst the polypropylene...