---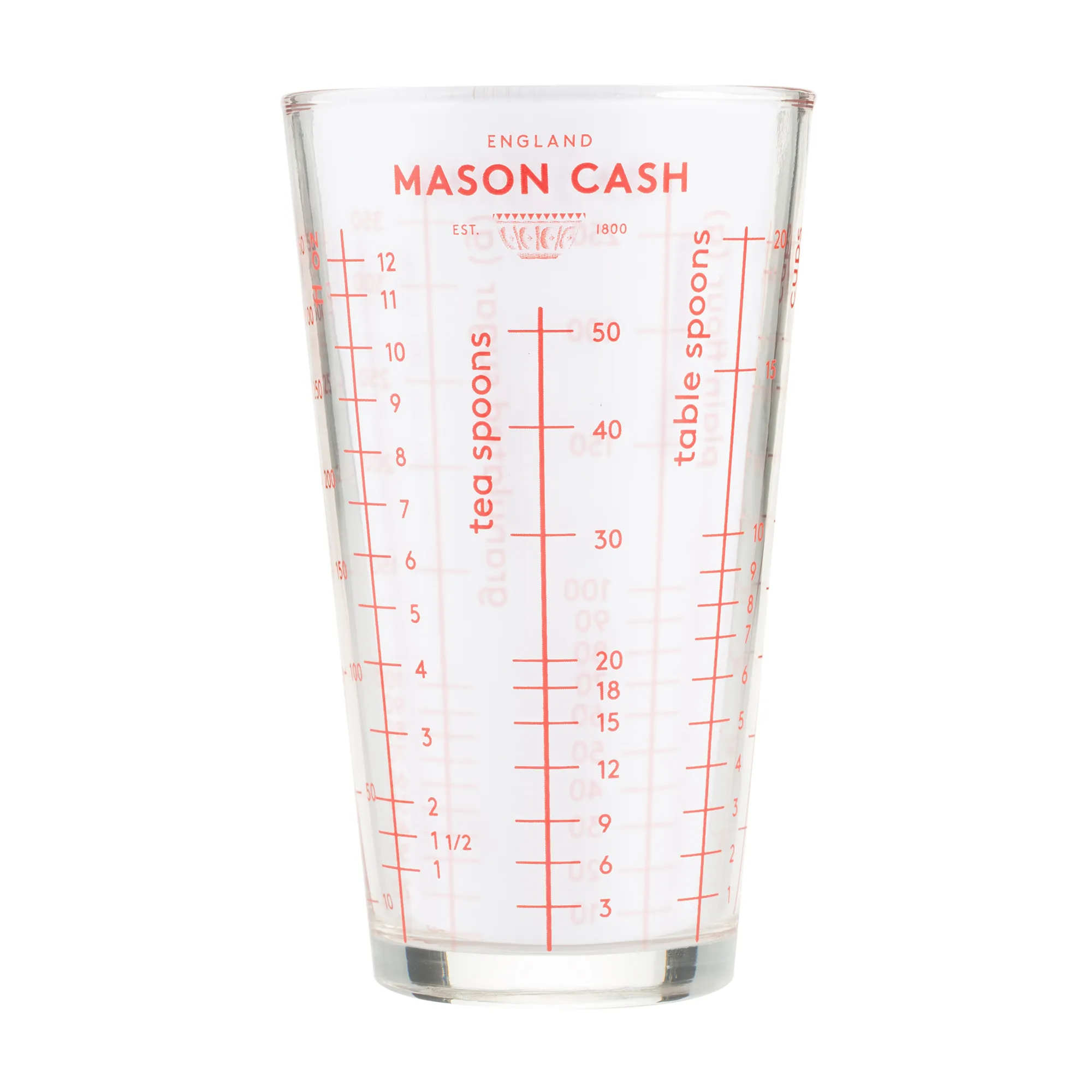 Classic Collection Measuring Glass
The Mason Cash Measuring Glass is part of the Classic Collection range. The glass features measurements in tablespoons, millilitres, cups, ounces, teaspoons and grams. Dimensions: L 85 mm x W 85 mm x H 145 mm Care: Handwash only
Colourworks Brights 4pc Measuring Cup Set
Colourworks Brights 4pc Measuring Cup Set Accurately measure out ingredients includes one cup, half a cup, quarter of a cup and eighth of a cup measures Each measuring cup is also clearly marked with the metric equivalent in millilitres (ml) Spoon-shaped to make scooping up flour and sugar from narrow jars and containers easier Stain resistant finishes make them easy to keep clean
---
Colourworks Classics 4pc Measuring Cup Set
Colourworks Classics 4pc Measuring Cup Set Sick of using notepads every time you use an American recipe? This set of 4 precise measuring cups has your conversion stress sorted Bake and cook confidently using 1 cup, ½, ¼ and ? cup wash-proof measures, complete with ml conversions Accurately portion everything from coffee to porridge: the curved spoon shape easily scoops soft butter,...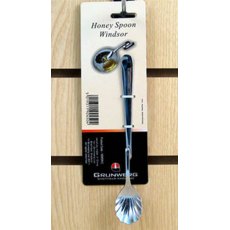 Honey Spoon Windsor
This Grunwerg Honey Spoon is the perfect accessory to any breakfast table. Stainless Steel Length 19cm Dishwasher Safe With cranked handle so spoon can rest on the jar
---
In The Forest S/3 Measuring Cups
The Mason Cash In the Forest range is intricately embossed with forest scenes inspired by folk tales of the mid-19th Century. The Set of 3 Measuring Cups are made from chip resistant stoneware and measure 1 cup, ½ cup and ¼ cup. Set Contents 1 Cup 1/2 Cup 1/4 Cup Care & Use Microwave Safe Dishwasher Safe
Measuring Spoons Copper
Masterclass from Kitchen Craft Set of four stainless steel long handled measuring spoons in a deluxe copper finish. ml and teaspoon / tablespoon markings. Held together on a metal storage ring. Handwash only5 year guarantee
---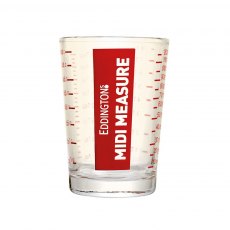 Midi Measure
These measure glasses are ideal for measuring both solids or liquids. Features easy to read scales for millilitres, teaspoons, tablespoons & ounces. Measurements are divided as follows - Ounces: 0.5, 1, 1.5, 2, 2.5, 3, 3.5, 4 | Tablespoons: 1 to 8 | Teaspoons: 1 to 24 | Millilitres: 10 to 120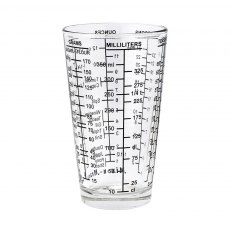 Mix'n Measure 16oz
Measurements include grams, ounces, millimetres, teaspoons, tablespoons & cups 350ml (12oz). Glass. 14.75cm tall.
---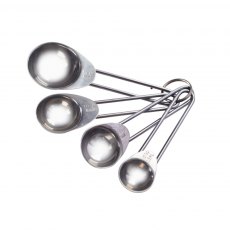 S/4 Stainless Steel Measuring Spoons
The Mason Cash Stainless Steel Measuring Spoons are the perfect addition to any bakers kitchen. Made from durable stainless steel, the spoons measure 15ml, 5ml, 2.5ml and 1.25ml Set Contents 1 tablespoon - 13 x 4.5 x 3cm 1 teaspoon - 12 x 3.5 x 2cm 1/2 teaspoon - 11.5 x 3 x 1.5cm 1/4 teaspoon - 11 x 2 x 1cm
---
Stir It Up Measuring Cups
Stir It Up Measuring Cups Beautifully crafted in stoneware in gorgeous tones of ivory and black, these charming cups are decorated with quirky measurement motifs and dainty floral details sketched in a hand-drawn style. Designed in the United Kingdom.
Three Piece Measuring Jug
Featuring cup, fluid ounce, millilitre and pint measurements on the exterior, the Set of Three Acrylic Measuring Jugs with Blue Handles by Kitchen Craft are ideal for use when following recipes. Able to be co-ordinated with a number of other items in the Colourworks range, allowing you to mix, match and co-ordinate your kitchen in a striking array of colours. Capacities: 200ml, 400ml, 900ml Five...
---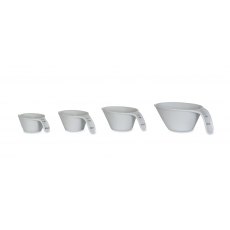 Porclelain Rialto Measuring Cups
Ensure favourite bakes and culinary creations have precise ingredients with our Rialto Measuring Cup Set. The set of 4 measures 60, 80, 125 and 250ml or 1/4, 1/3, 1/2 and 1 cups and nest together to store in a drawer or cupboard. The distinctive teardrop shapes are crafted in neutral white Porcelain, ready to become staple items in kitchens for years to come.