---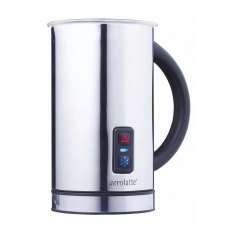 Aerolatte Compact
This Aerolatte compact hot frothing jug takes cold milk and whisks it while it warms into a rich, creamy froth for cappuccino or hot chocolate. This jug creates hot or cold milk froth at the touch of a button. An indispensable accessory for preparing caffe latte, cappuccino, hot chocolate, milkshakes, etc. Removable whisk head for ease of cleaning. Suitable for dairy, goat, hemp, almond, soy, cashew,...
SMEG Drip Filter Coffee Machine
Product Features Make up to 10 cups of coffee in one go or 4 cups function for smaller quantities Keep coffee warm 40 minutes after brewing with special function Wake up to the smell of coffee in the morning using the auto start function Two aroma intensity settings to suit every coffee blend
---
SMEG Espresso Machine
This Smeg retro style Espresso machine is available in various colours and makes the perfect espresso, cappuccino, latte or latte macchiato! Features: 3D logo Metal wrap and plastic painted housing Stainless steel filter holder, frame and cup tray Steel cup holder Metal steam lever Chrome plated base Thermoblock heating system 15 bar professional pressure Anti?drip system 3 filters (1...