---
Gentleman's Hardware Travel Wallet Recycled Leather Black & Tan
his Gentlemen's Hardware Recycled Leather Travel Wallet will add an edge to your travel accessories. It's passport-sized with an accompanying black pen and multiple pockets to hold all travel documents in one place. Soft and sleek, it comes in its own box and measures 10 x 110 x 90mm.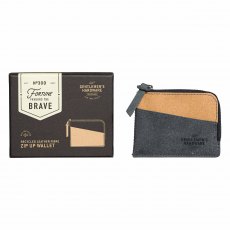 Gentleman's Hardware Zip Up Wallet Recycled Leather Black & Tan
The Gentlemen's Hardware Zip Up Wallet is made from black and tan recycled leather and has been designed to hold all you coins, notes and cards together without the bulk or bulge! It has 2 inner and outer card pockets and is a nicely pocket-sized at 20 x 115 x 95mm. Presented in a branded gift box.