Tala
---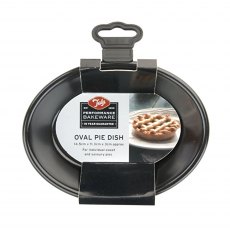 Tala Oval Pie Dish
This 14.5 x 11.3 inch non-stick pie dish features a good depth to perfect sweet and savoury pies and accommodate delicious fillings. From the Tala Performance range of baking and roasting kitchenware. Fridge, freezer and dishwasher safe Safe for use with metal utensils Heat safe up to 240 degrees Celsius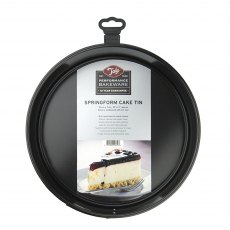 Tala Springform Cake Tin 25cm
This 25cm Cake Tin is a kitchen essential and features a strong fast-release springform mechanism, allowing creations to be released from the pan with ease. From the Tala Performance range of bakeware. Fridge, freezer and dishwasher safe Safe for use with metal utensils Heat safe up to 240 degrees Celsius
---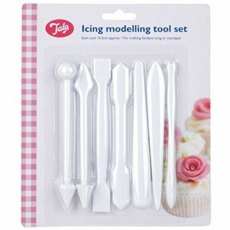 Tala 7 Piece Icing Modelling Tool Set
7 Essential cake decorating modelling tools, ideal for marking patterns into fondant icing and marzipan as well as shaping flowers and figures. This Tala 7 piece modelling tool set is Ideal for marking patterns in fondant and marzipan, as well as creating flowers and figures.Use icing sugar to prevent the fondant icing form sticking to the tools and work surface. Soften the fondant icing and roll...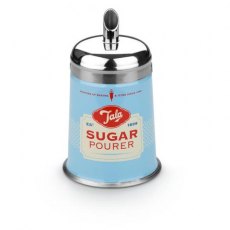 Tala Blue Sugar Pourer
The Tala Originals Sugar Pourer is the perfect table accessory for guests to add sugar to their tea and coffee. This can be used for an afternoon tea event.
---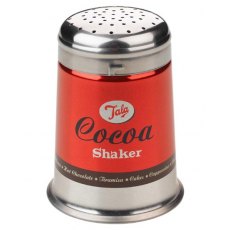 Tala Red Cocoa Shaker
This Tala Originals cocoa shaker is perfect for dusting homemade cakes and adding a sprinkling of cocoa to the top of a hot chocolate for a tasty treat. The retro design is timeless and is ideal for storing sugar to keep it clean and dry and accessible when needed. Made from stainless steel the lid easily removes with a twist for refilling with cocoa. Dimensions: 11.5(H) x 8.5(W) x 8.5(D)cm.
Tala Categories