---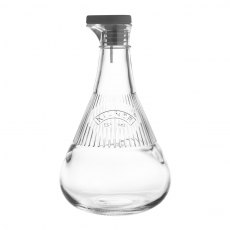 Kilner Pouring Bottle 0.5 Litre
This practical Kilner 0.5 Litre Glass Pouring Bottle is a stylish way to store oil or vinegar. The bulbous body shape allows space for oil and vinegar flavours to mature. Ease of pouring is ensured with the easy grip ribs and twist top lid to control the flow. A high quality silicone lid keeps contents fresher for longer. Rotate the lid 180° for a gentle drizzle or remove lid completely for a faster...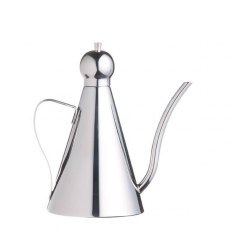 Masterclass Oil Drizzler 250ml
Masterclass Stainless Steel Oil Drizzler 250ml Ensure total elegance from this beautifully design kettle style oil drizzler, with an attractive mirror polished stainless steel finish and a slender angled spout for dispensing a variety of different oils. Dishwasher safe 5 year guarantee
---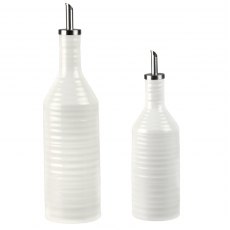 Sophie Conran Oil & Vinegar Drizzler Set
This white Sophie Conran for Portmeirion oil & vinegar drizzler set is made from premium porcelain. With an easy-clean non-stick glaze and rippled surface, it makes for a wonderful housewarming gift. Dimensions: Oil 26.5cm, Vinegar 23cm, Oil 10.5 inches, Vinegar 9 inches Ceramics Dishwasher Proof Metal Hand Wash Only
---
Typhoon World Foods Oil Pourer Blue
The Typhoon World Foods range introduces specialist cook and serveware for those who love to cook or serve dishes from all over the globe. The Oil Pourer is made from chip-resistant stoneware and features a stainless steel pouring spout in the lid for easy pouring. Capacity 260ml
Masterclass Acrylic Salad Dressing Maker
Masterclass Acrylic Salad Dressing Maker Easily make five popular salad dressing with the MasterClass acrylic salad dressing maker. Featuring measurements and recipes,Jacques vinaigrette. The clearview bottle has integrated twin pouring lips, a satin finish stopper, and matching steel base rim, making it ideal for tabletop use. Handwash only Recepies printed on to bottle with graduated...
---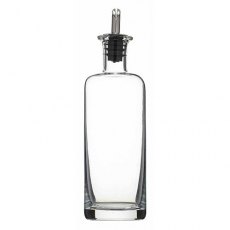 Oil or Vinegar Bottle With Silicone Stopper
The perfect table accessory for your evening of Italian themed dining, the World of Flavours glass oil and vinegar dispenser with stainless steel drizzle pouring spout is ideal to complete your Italian experience. A contemporary design perfect for storing and dispensing a variety of oils and vinegars. Dishwasher safe Stainless steel drizzling spout 12 month guarantee