---
Large Fridge And Freezer Thermometer
Masterclass Large Stainless Steel Fridge & Freezer Thermometer Easily regulate the temperature of your fridge or freezer for safe storage of contents. Measures between -30°C to 30°C, with large easy to read dials Wipe clean only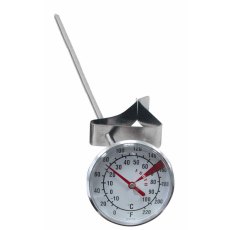 Milk Frothing Thermometer
The ideal must have tool for frothing of milk for cappucino coffee and other drinks. Fahrenheit & Celcius Reading Large Instant Read Dial 1.75 Inch Stainless Steel Construction Stainless Steel Clip for Attaching to Jugs & Pitchers
---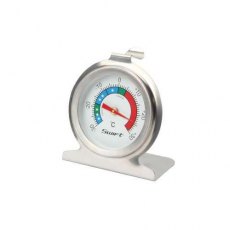 Stainless Steel Fridge Freezer Thermometer
No more guessing whether your fridge or freezer is the right temperature - the numbers on the dial are not usually an indication of the temperature. A fridge should stay between 3'C and 5'C, any higher and the food will go off, any lower and you'll lose nutrients and fresh food can be ruined. Your freezer should operate at -18'C and you should check it periodically. Hang this handy stainless steel...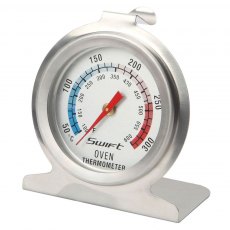 Stainless Steel Oven Thermometer
Hang this handy thermometer in your oven to ensure you maintain accurate oven temperatures. The stainless steel casing includes a clip, so you can hang it or stand it on its base. For the most accurate reading place it as close to the centre of the oven as possible. Preheat the oven to the desired temperature. Once it has properly preheated, check the temperature on the thermometer. Until you really...