---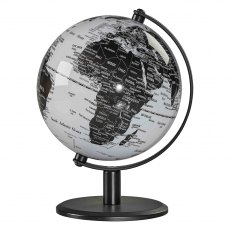 6" Monochrome Desk Globe
Add a touch of style to any desk, home or office with this classic monochrome 6" globe on a matte black stand. Size: 220 x 160 x 140mm
Black Globe with Swivel Stand 43cm
This stylish black contemporary globe is not only decorative but also the perfect gift for any travel enthusiast. Set on a chrome plated swivel and tilt mount with both horizontal and vertical rotation, this tactile globe will have you addicted. Perfect for either the home or the office. Diameter 43cm Clean with a soft cloth. Not a toy or Children's Product. Intended for Adults Only Box Contains 1...
---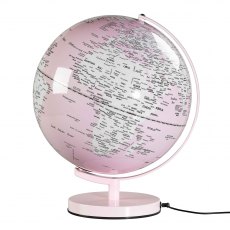 Pearl Pink 12" Globe Light
Add a touch of style to any desk, home or office with this pearl pink 12" light up globe with a contemporary stand. LED light bulb uses 90% less energy than halogen or incandescent bulbs. Can be powered via a USB connection or UK mains plug socket. Cable length: 150cm Size: 400 x 310 x 280mm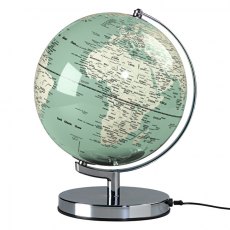 Swedish Green Globe Light
A bold and elegant globe light in Swedish Green. Illuminated with an energy efficient LED bulb that uses up to 90% less energy than traditional bulbs. Cable length 150cm (5ft). All Globe Lights include a USB cable, and can be powered using a USB connection or via a mains plug socket.
---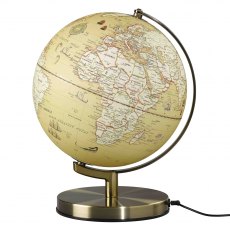 Vintage 10" Globe Light
Vintage 10" light up globe by Wild & Wolf with a matte finish and brass stand. LED light bulb uses 90% less energy than halogen or incandescent bulbs. Can be powered via a USB connection or UK mains plug socket. Cable length: 150cm Size: 330 x 240 x 240mm