RHS Endorsed
---
RHS Endorsed Garden and Flower Scissors
These garden scissors are invaluable all around the garden and shed, whether cutting flowers for your home, snipping unruly stems or spent leaves, cutting twine or opening bags of compost.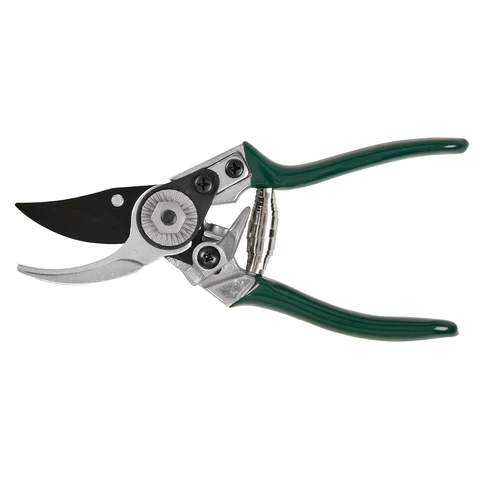 RHS Endorsed Pocket Pruner
A high quality secateur for prunning and woody cuttings. Designed to give first class durable performance with maximum user comfort. Simple but secure locking catch Fully hardened, Teflon coated, high-carbon steel blade Sap groove to prevent blades sticking Comfortable cushion grip Length 17cm
---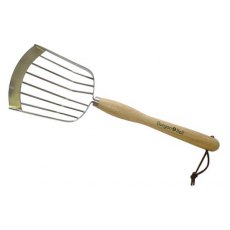 RHS Endorsed Potato Harvesting Scoop
Brilliant re-interpretation of a traditional potato 'grate' – for harvesting potato crops without damage. The bar across the end of the tines prevents accidental stabbing while the tine's spacing and shape allows potatoes to be sifted from the soil. The stainless steel used to make the head is highly resistant to rust and will stay looking good for years to come. A strong leather...
RHS Endorsed Rose Pruner
The RHS Endorsed Rose Pruner Rose Pruner has a fully hardened and tempered high carbon steel blade for lasting sharpness. The handles is made of a robust alloy and covered in a comfortable Racing Green grip. Cuts up to 1cm diameter. Overall length 20cm.
---
RHS Professional Bypass Secateurs
The Burgon & Ball RHS Endorsed Professional Bypass Secateurs has fully hardened and tempered, high carbon steel blade for lasting sharpness. Robust alloy handles, covered in a comfortable, bright terracotta grip for maximum visibility in the garden. Cuts up to 2.5cm diameter. Overall length 20cm.
RHS Endorsed Categories