Sophie Conran for Portmeirion Bergamot & Water Lily 250ml Reed Diffuser Refill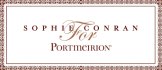 Note: Currently not available for delivery to Islands and Channel Islands, Europe 1, Europe 2, Europe 3, Europe 4, Europe 5, North America, Middle East, Far East & Australasia 1, Far East & Australasia 2, Central & South America and Africa & Asia.
Product Description
Freshen your home with this a soothing yet luxurious scent of bergamot and waterlily Sophie Conran diffuser refill.
Made in the UK.